Awesome yield last July, well over half are good, marketable, going from walnut size up to tennis balls. We were blessed with weather in the 70's, so were able to harvest all the garlic in one weekend.  Thanks  for  the  help.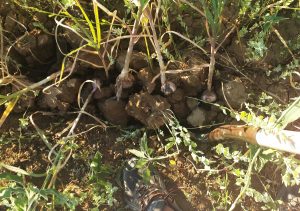 There is Wi-Fi at the Bibo Bar, home of the best Green Chili Cheese Burgers out of Cellphone range in New Mexico.
Ammonite Ranch is located in Bibo, New Mexico, in the eastern foothills of Mount Taylor, 11 miles north of Laguna Pueblo. We are a growing farm currently producing Garlic with the help of internships and farming volunteers, and we also have a vineyard and orchard.
We now have photos of the ranchhouse in the New Mexico Film Office's Location Index. The Address is 122 La Joya Loop, Bibo, NM