Got most of the Garlic pulled July 3-4, thanks to friends and family. Weather was good with cloud cover and very muddy. Lots of dogs!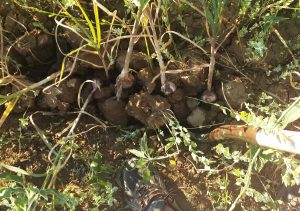 There is Wi-Fi at the Bibo Bar, home of the best Green Chili Cheese Burgers out of Cellphone range in New Mexico.
Ammonite Ranch is located in Bibo, New Mexico, in the eastern foothills of Mount Taylor, 11 miles north of Laguna Pueblo. We are a growing farm currently producing Garlic, and we also building up our vineyard and orchard.
We now have photos of the ranchhouse in the New Mexico Film Office's Location Index. The Address is 122 La Joya Loop, Bibo, NM, 87014